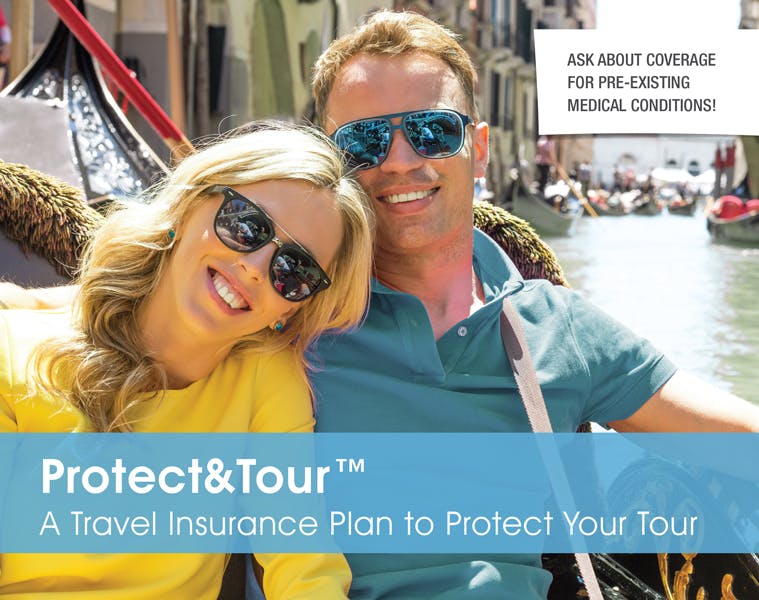 The Best Protection For Your Trip
Even the best planned trip can be impacted by the unexpected, forcing you to cancel or interrupt your travels, lose the money you've spent on your vacation and incur unplanned expenses. Generali Global Assistance (formally CSA Travel Protection), offers an exclusive Protect&Tour™ plan that's customized to you. It includes a variety of coverages and services designed to protect you and your trip costs from certain covered events.
Please note that this insurance is available for US residents only.
Key Features:
10-day Free Look
Medical and Dental Coverage and Emergency Assistance and Transportation
Coverage for flight delays resulting from adverse weather
Coverage is available for Pre-Existing Medical Conditions
Award-winning Customer Service
Insurance Coverages and Costs
Underwritten by Generali U.S. Branch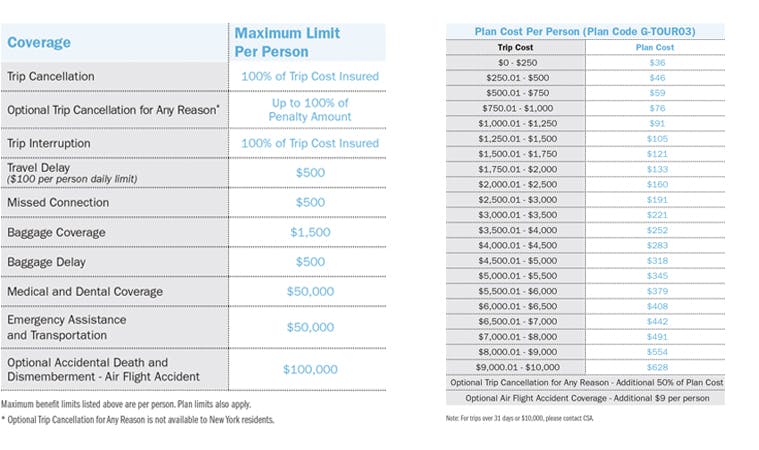 Featured Services
24/7 Emergency Assistance Services
These services offer on-the-spot and immediate assistance for unexpected problems that can arise during your trip. The hotline operates 24/7 for help anytime, any place while traveling.
Free Look
CSA Travel Protection will provide a refund of your plan cost if you cancel your plan within 10 days of purchase and have not filed a claim or departed on your trip.
Medical and Dental Coverage
International medical coverage is essential when traveling abroad. This plan provides reimbursement for the necessary medical, surgical and emergency dental care costs if you become sick or accidentally injured while on your covered trip. Coverage is in excess of your standard coverage, except where prohibited.
Emergency Assistance and Transportation
Benefits include transportation to the nearest suitable medical facility, help to return home if medically necessary and expenses for a companion to visit you if you are traveling alone and are hospitalized for more than 7 days.
Coverage for Flight Delays
Trip Cancellation and Trip Interruption coverages respectively provide reimbursement for unused, non-refundable, prepaid trip costs if you are prevented from taking your trip, or yourtrip is interrupted due to a covered reason. Trip Interruption also provides reimbursement for additional transportation costs to return home or rejoin your group. A flight delay due to adverse weather is a listed, covered event under both of these useful coverages.
Coverage for Pre-Existing Medical Conditions
Pre-Existing Medical Conditions can be accepted when the plan is purchased prior to or within 24 hours of final trip payment, if other requirements are met. Please visit bit.ly/TOUR03 to see a sample Description of Coverage or Policy for full details.
Excellent Customer Service
CSA is committed to providing the best customer service in the industry. Calls are answered live and representatives are available seven days a week.
Protect Your Tour Today
Head to the website or call CSA Generali toll-free on 866-930-0975 from 5am to 7pm PST Monday - Friday & 6am to 3pm Sat & Sun.
Reference plan code G-TOUR03, approval code: A02916.